1/4
"A journey through the history and future of jewelry" by Assamblage Contemporary Jewelry School  
Contemporary jewelry installation and exhibition. Third edition of Project A

Project A is a biannual contemporary jewelry exhibition, organized by Assamblage Contemporary Jewelry School in collaboration with Galateca Gallery. The event is dedicated exclusively to its graduates in order to promote and support them as independent designers. The first exhibitions - This is NOT the Jewelry Exhibition and Taboo Exhibition, constituted strong evidences of the positioning of jewelry as an independent art form.
The third edition of the event will bring a contemporary jewelry exhibition and installation of large proportions, under the theme A journey through the history and future of jewelry. 46 designers accepted the challenge of reinterpreting or re-imagining the great currents from art history and bringing them into the present through their own styles, turning the installation into a real pop-up museum dedicated to art and design. Additional to exhibition, the opening evening will feature the official launching of Assamblage – The National Contemporary Jewelry Association.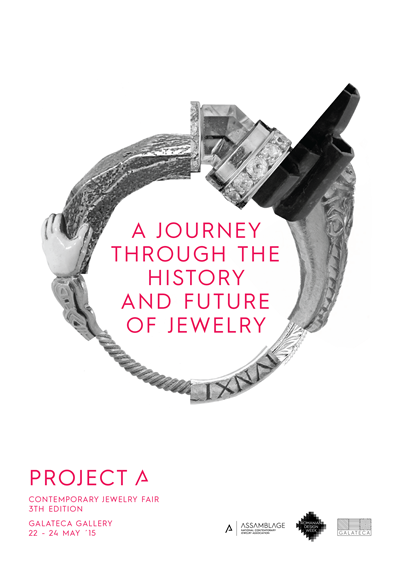 Galateca Gallery – C.A. Rosetti Street, no. 2-4
22–24th of May, from 11am to 8pm
Official opening: 22nd of May – 6pm

Assamblage Contemporary Jewelry School was founded in October 2010 at the initiative of designer David Sandu. In four years of activity, Assamblage has over 300 alumni, thus becoming a foundation and a strong reference point in the development of design jewelry in Romania. Staring with 2014, Assamblage is partner of the prestigious Alchimia – Contemporary Jewellery School in Firenze, developing already a series of common projects.