1/2
Theme: THE NEW VIDEO STORYTELLING. We make an incursion into the world of new video-journalism. We learn how to build the narrative thread behind visual stories.
SPEAKERS: Cosmin Bumbuț (
Teleleu.eu
), Cristian Delcea & Mihai Voinea (
Recorder.ro
), Mircea Topoleanu (
VICE Romania
)
MODERATOR: Teodor Tiță (Director of
Europa FM News
)
DATE: Thursday, May 24, at 19:30
LOCATION: Czech Center, 11 Ion Ghica
PARTICIPANTS: non-fiction authors and readers, photo / video journalists, professionals from various fields (creative industries, PR, business, etc.) interested in the unseen mechanisms and insights in the world of visual content creators.
Masterclass Superscrieri is a series of events organized by the
Friends For Friends Foundation
, in which respected journalists in Romania speak openly about their work and transfer experience to the new generations.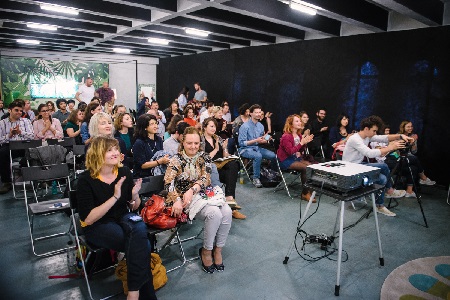 SAVE THE DATE!
• 24 May // 7:30 PM
• Czech Center: 11 Ion Ghica Street
The
Friends for Friends Foundation
's motto is "Empowering creative people". Its role is to make available to the community unique tools and experiences that will allow Romania to become a brand that counts, whose main engine is the creativity of the Romanians.
Among the FFFF projects are: Superscrieri, a program to support the new journalism in Romania (awards, scholarships, seminars, masterclasses and editorial lines), In a Relationship - a project dedicated to the prevention of violence in teenagers couples, Policlinica de Marketing - a program that teaches NGOs to communicate effectively, Creative Fitness Studio - experience learning workshops, and Corporate Creative Writing trainings.