1/1
Opening the gates of a superb red brick, neo-Romanian style villa, over 100 years old, Play on Arhi-textures brings together creative perspectives upon architecture through games, social-education, graphic design, film, music, travels etc., intersecting the views of architects with other creative people, in order to clarify the broad perspective upon the role and implications of archi-tecture in contemporary society. The perfect setup to celebrate the 25th year of existance of the architecture magazine Arhitext.
The program includes de-a arhitectura workshop with children, Urboteca – the urban actors boardgame, film screenings and discussions with Urban Eye, design the anniversary cover of Arhitext magazine – 25 years contest, tips&tricks for young graphic designers, Fresh from the printers video, presenting «Grandma's cottage» summer school in July, musical moments with Sound Choir, The Pixels etc. Full program
here
.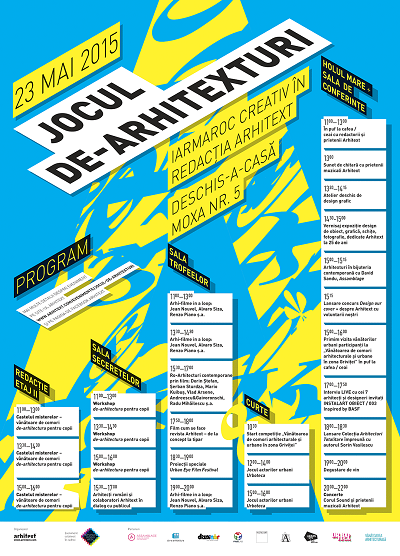 Mihail Moxa street, no. 5
23rd of May, from 11am to 11pm
ARHITEXT design – publisher of Arhitext magazine – represents, for 25 years, a tool for the constant screening of Romanian cultural space and for connecting with the international cultural trends in the fields of architecture, art and design.
Through the editorial and cultural projects undertaken, ARHITEXT design intends to achieve one of its most important goals: to initiate a process of formation and construction of a Romanian cultural context. That is why some of the most important aspects considered by the Foundation in its endeavors are inter-disciplinarity and the exchange of ideas between various related fields.
After 25 years of existance, ARHITEXT design is a platform for the exchange of ideas, for the observation of critical and theoretical stances which concurrently form and shape a cultural con-text we continually need, outlining new tendencies and future values.