1/2
Sorin Bechira's universe for visual expression can be described through digital experiments that combine multiple techniques with an air of surrealism, where the conceptual and the abstract come in to underlines emotions, some immediately perceptible, some hidden inside complex details. His works do not want to be shocking or to be propagandistic; they are simply observations underlined through living and through dynamic gestures sometimes bathed in color, sometimes simply imagined in black and white.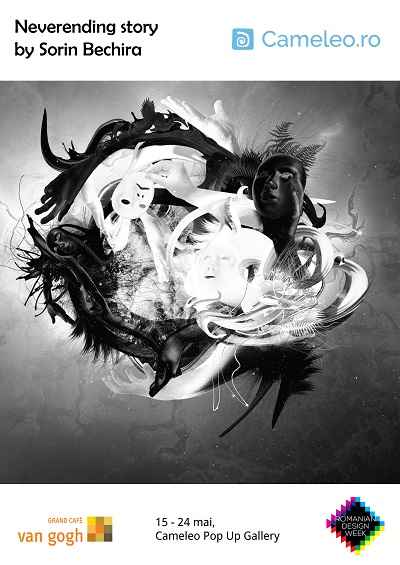 Grand Cafe Van Gogh - Smardan Street, no. 9
16 - 24th of May (Grand Cafe Van Gogh's regular opening hours)
Official opening: 16th of May – 7 pm
Cameleo.ro want to bring color to your life. Whether you want to buy a work that will brighten your day room, or a series of photos that will color up your kitchen, Cameleo tries to offer as many relevant, interesting and, last but not least, beautiful pieces. Beautiful for your apartment or maybe beautiful for a friend's studio, or maybe beautiful for your little office space.
You can choose from photos and illustrations from the portfolios of artists that are part of the Cameleo.ro community, but you can also choose from a series of pieces that Cameleo.ro selected from other sources, just as interesting.