1/5
The Open Doors event encompasses the 1000sqm of
Nod Makerspace
and also the neighbouring creative activities.
Within the extended makerspace, visitors have the opportunity to see, touch and test a series of objects, materials, installations illustrating the specific prototyping activities of a makerspace. The open and brightly lit industrial space in the former Cotton Industry will be suitable for exhibiting objects and installations made by Makers and also prepared for small demonstrative activities. Digital manufacturing equipment and technologies will be operated throughout the day, by skilled members of the Nod core team. 
Crafts will also be present at the exhibition, due to both junior craftsmen present Nod and to the exhibition "Design origins". The latter is a collaborative product of young designers from Poland, Czech Republic, Slovakia and Hungary versus craftsmen and folk artists and consists of two parts: "Wool Design. Carpathians", that presents 20 contemporary design products and "Wood. Trówła", that contains contemporary reinterpretations of traditional dowry chests.
In addition to technologies and crafts, complementary to the world of design and engineering, on May 21st, by evening, there will be the Preview of the project dedicated to the local community – La Firul Ierbii + Urban Inc. Given the fact that Romanian design, although less developed, is very dynamic and also that the local community and the concept of citizen involvement is less developed, but of great interest and potential, the creative industries clustered within the Cotton Industry need a stronger link to the neighborhood and the city.
Thus, La Firul Ierbii will soon open its doors in the vicinity of Nod makerspace - as a debate center, for civic initiatives, in a revitalized industrial building. In the same physical space, Urban INC will soon be launched - as an un ecosystem for experimenting, learning and scaling new solutions, in order to find new ways of seeing and understanding the city.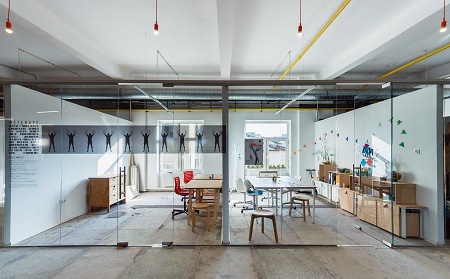 Splaiul Unirii, no. 160
Open doors:
May 21, 2pm to 2am
Official Opening Design Origins:
May 21, 6pm
(visiting hours: May 22 – 27, 4pm to 8pm)
Preview
La firul ierbii
+
Urban Inc
: May 21, 8pm
Nod is a makerspace – a "working playground" that provides access to a wide palette of tools and equipment for digital fabrication and fast prototyping.
Nod (knot, in Romanian) is the place where people and projects meet and tightly bind together. Occupying the 2nd floor (720sqm) of the main building, in the former Cotton Factory, near central Bucharest, the space layout is made of: 500 sqm open-space for coworking area with 16 studios for young designers and their teams, 150 sqm of prototyping, manufacture and digital fabrication workshops, 100 sqm of bricolage and design workshops for children. The workshops include: a wood working area, a metal working area, a ceramics room and a painting room. The open-space is equipped with a 3D printing area, an integrated kitchenette with a chill-out area and a conference room with a large ping-pong table.
Currently, Nod makerspace is expanding up to 1000 sqm, undergoing a logistical reconfiguration of the technical workshops and adding a public events area.
The makerspace addresses all designers, artists, engineers, inventors, entrepreneurs. Anyone who has an idea, an invention, a prototype and wants to design it beyond theory finds the necessary tools, know-how and advising community @Nod makerspace.