1/3
Casa OtzeDADA is a collage made up of designers, architects and photographers who wish to invite you to get into the DADA mood. Embracing this year's great anniversary, the DADA centenary, the designers decided to dedicate one night in their studios to express the dadaist look and feel.
Dare to Rug invites design aficionados to join a "DADA inducing" party that very night, in their newly open studio, where they will also share the inspiration behind the Dare to Rug designs. The designer duo will guide visitors through the DADA atmosphere using creative mood boards and visual experiments.
The FAB Squad invites visitors to bring DADA to life using their own bodies as a canvas: from clothing to make-up and attitude. The best look wins a styling and photo session with The FAB Squad. That night, visitors can take photos with a DADA inspired set-up and the resulting collage will be shared by The FAB Squad along with other portraits created in the studio.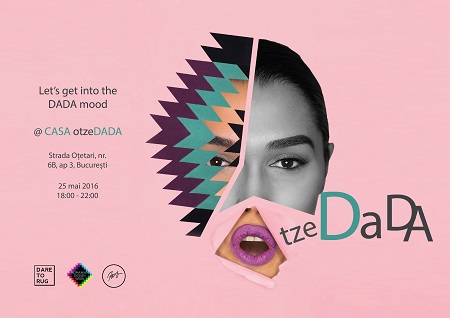 Oțetari Street, nr.6B, Bucharest
Thursday, 26 may 2016, 15:00 - 22:00
Launched in 2015, Dare to Rug is the first Romanian designer brand that creates hand-tufted rugs. The creatives behind the brand are Andreea Batros and Flavia Scînteanu - two interior designers who share a passion for craft. While working for several years on different continents, they were fascinated by rugs and decided to bring back the rug as the central piece of decoration in a space. The wish to promote Romanian design globally made them return to Romania and start this adventure together.
The FAB Squad is a creative studio where our love for image, photography, makeup and atmosphere come together and create the perfect place to start uncovering your personal style. Ioana Dodan, the image consultant behind The FAB Squad, is an architect with international experience in various environments and cultures, having worked in places as diverse as New York, Bucharest or Shanghai. She has an eye for design and personal style and a passion for everything visual.