1/3
The found object is that something you keep in the back of your drawer, you clean from time to time, and you hesitate when thinking of throwing or giving it away. The recurring line of thought and outcome: too precious to be thrown, too many encapsulated memories, nobody will care about it as much, maybe I will find a place in the spotlight for it…but later on.
"Aesthetics of the Found Object" is proposing a framework where these objects find that place. The exhibit starts with its skin, the event hall itself, found in a stimulating discourse that makes one aware of the "found object's" presence, enhancing both the "well-kept capsule" and the "new place". The "new place" is assembled and incrusted with humble materials, handled in an almost raw state: OSB, plastics, welded steel elements. The juxtaposition and its exchange is meant to strengthen both recipients and allow both parties to tell their story.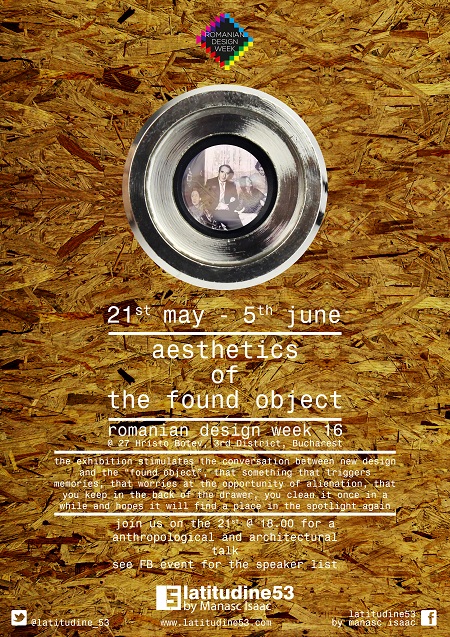 May 21 - June 5
Botev Hristo Blvd, no. 27, 1st floor, ap.1 
Official opening
: May 21, 6pm
Visiting hours
: 2pm to 9pm
The Manasc Isaac  team's journey began with designing high-performance buildings in Canada's Arctic 30 years ago. Since then, Manasc Isaac has translated the knowledge we developed working in extreme climates into a commitment to be frugal with resources while creating great environments for people.
Manasc Isaac leads the way in utilizing the latest technologies to design new buildings and transform aging buildings into healthy, beautiful and financially viable assets for owners and occupants alike.
After their collaboration with two young Romanian architects, Manasc Isaac Architects jumped to the opportunity of expanding their vision onto the Romanian scene with Latitudine53. The newest member of the Manasc Isaac family completes our brand with its fresh view that flatters and mediates the dialogue between aging buildings design and new technologies.