1/2
Curatorial talk and presentation of the exhibition produced by Nasui collection & gallery - "Plastic Existence - rearranging the molecular structure of substances" by artist Felix Deac.
Solo sculpture show Felix Deac, produced by Nasui collection & gallery Felix Deac's artworks are the results of lab researches, where the study of art meets the one of chemistry. The materials Deac uses in sculpture are in fact compounds of chemical substances mixed in chain reactions in order to obtain, through vulcanization, casting or stratified interventions, new organic forms able to compete both reality and the power representing nature through art.
The hyper realistic sculpture of Felix Deac unfolds along 6 years of research and embodies two series of works: "Artificial Life" and " Plastic Existence". The artworks from Artificial (2010-2013) succeed in creating new morphologies of organisms or own-life grafts, from chemically made skin and hair. The series Plastic (2013-2016) contains works where Deac investigates the alteration of human physiognomy and body and then deepens the research into anatomical, both in textures and in structures.
Felix Deac (b. 1984) studied at Cluj-Napoca University for Art and Design, graduating a PhD in sculpture there and developping an international route with personal exhibitions in Romania, Italy and Germany.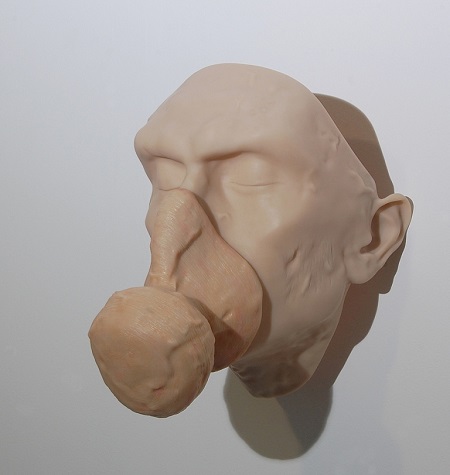 Felix Deac, "Plastic existence", 2015, Sculpture, Mixed Media
May 25
Institute, The Café - Stirbei Voda Street, no. 104 - 106

Curatorial talk
: 12 pm to 1 pm
Presentation of the exhibition
: 12 pm to 6 pm
Nasui collection & gallery is an independent organization that supports contemporary art and artists from Romania internationally. It presents premium creations of a carefully selected pool of Romanian contemporary artists, within favourable international and national contexts.
It promotes, cultural and investment wise, artists who work in contemporary visual arts: painting, sculpture, photography, performance, research and innovation.
Nasui collection & gallery opens in 2010 in Bucharest, Romania and co-produces over 60 international projects within prestigious cultural spaces and contexts, some of them being Moscow Biennale of Contemporary Art 2011, Liverpool Biennale 2012 and 2014, Venice Biennale 2013 or Manifesta St. Petersburg 2014.