1/5
The Fusion Arts projects was developed based on the need to combine series pieces with designers pieces and painting in residential spaces.
The project presents to the public rooms that bring together art, design and mass-production pieces. Personalizing the private space in which we live if not only a matter of how you can place the furniture, it has become more of a matter of the objects you choose for the decorations. This is why the creators of Fusion Arts place statement pieces from designers and contemporary artists in spaces that are already furnished.
Biblioteka – Hub for designers will hos a series of conferences on the same subject.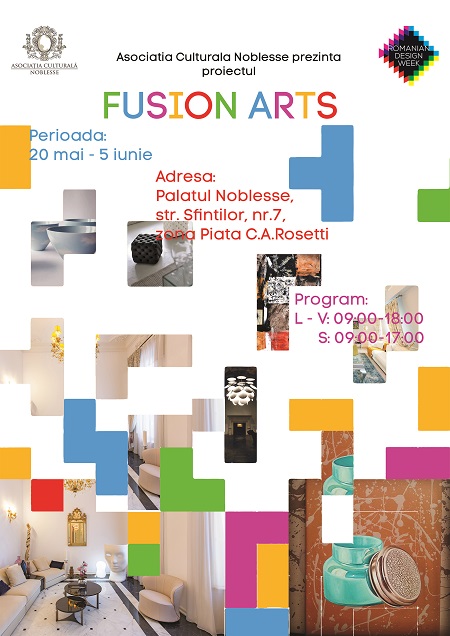 May 21 - June 5
Sfinților Street, no. 7
Monday to Saturday
: 9am to 6pm
Official opening
: May 21, 11am
Conferences
: May 21, May 28, June 4 – 11am
Noblesse Cultural Association has been founded in 2014 with the main purpose of developing projects that bring into the public attention the necesity of restoring and giving an economic function to historical buildings and also to promote young artists and art in residential spaces.
Some of the projects developed so far are: the first Henri Matisse exhibition in Romania (May 2015), personal exhibitions for emerging artists (Liviu Mihai, Otilia Cadar, Iulia Nastase) and also the project "Art in private spaces". The NGO functions inside Palatul Noblesse, a historical building from 1881 designed by Alexandru Savulescu. Their latest project, Biblioteka – Hub for designers, is a unique space, dedicated to designers and architects.