1/2
SEMN is the concept born after countless pages in countless books, underlined with eyeliners, ink or markers.
SEMN comes from the impulse of underlining your favorite quotes, when all you have around is your book and your bookmark.
SEMN is a simple, practical object, imagined as a helpful companion for the avid reader.
The bookmark SEMN was imagined by designer Bianca Tămășan and generated by ROD Cărturești.
The project was part of the Cititor, Voyeur call for projects launched by ROD Cărturești in 2014.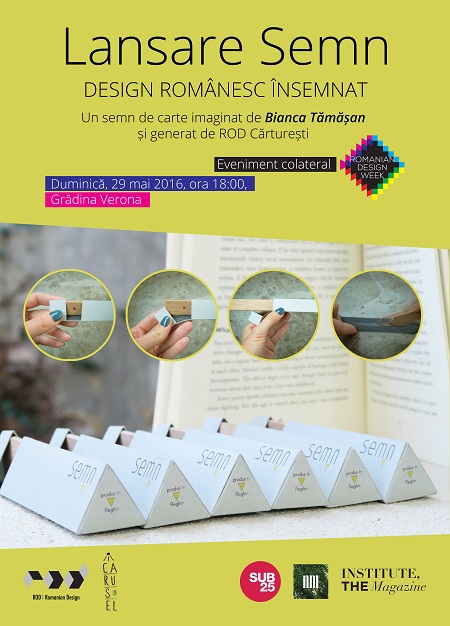 Str. Pictor Arthur Verona, nr. 13-15 (Grădina Verona)
29th of May, 6pm
Rod is the Cărturești project with a mission to promote, exhibit and sell Romanian design, bringing local creators closer to an ever emergent public. Ranging from jewelry to clothing, furniture, toys, stationery, ceramics or decorative objects, ROD brings a much needed alternative to a mass produced scene. ROD Cărturești takes pride in various in-house artistic collaborations, producing sustainable product lines with the creative input brought by emerging artists. At ROD you will find fresh ideas, functional designs and unique stories.