1/1
Design capsule – NORdic continues the collection SKY, launched in Paris, in January 2015, at Maison&Objet, having as a starting point landscape images, discolored through painting and printed into design objects.
The process of observation-emotion-impression-abstracting-illustration-design-object becomes a metaphor of emotion in all it's phases, both of the creator and of the observer.
NORdic starts from a pleading of the Cummulus cloud – spectacular, dramatic, heavy and thaw a cloud of good weather. It reminds of the Nordic summer, with cold warmth, white light, in timeless times, celebration of short joy, emotion of permanent memory.
The items from the NORdic collection question all these contrasts, from landscape to inscape, trough a cartography and mapping process of those questions that are typical for explorers.
All items are built on the common theme of illustration + text in a sarcastic tone and in a specific décor with recycled elements – as a metaphor of the self restoration: chair, prevent and decorative cushion, original oil painting, t-shirts, summer dress, bags.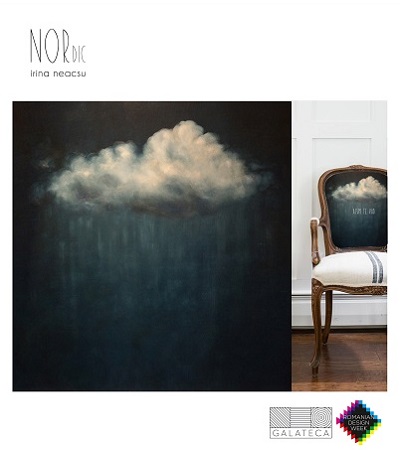 Galateca Window - C.A. Rosetti Street , no.  2-4
16-24 of May
Irina Neacsu is an architect and interior designer. In 2010 she launched
thecraftlab
, a brand that creates and restores furniture and accessories with a unique story, combining various materials, colors, techniques and embroideries into different strata of past and contemporary fantasies. All items signed by Irina Neacsu, interior decoration as well as design objects, are authentic through their unique and coherent style that became the mark of the brand: color, playful, refined, surprising combinations and contrasts of old and new. Each year,
thecraftlab
by Irina Neacsu launches a new collection within prestigious international events and galleries, meanwhile creating bespoke items for its clients.
The new design direction manifested in 2015 is a mix of digital print and hand embroidery.