1/5
Miso Architects
intends to host an event where visitors are invited to go behind the scenes and discover the colourful world of design. Therefore, in the Miso office there will take place an exhibition embracing various areas of arts, as well as a floral design workshop, in collaboration with Departamentul de Dichis. There will be invited partners and designers, friends of the Miso team who will display their creations in the office, such as furniture (Bucin Mob and Movi Design), artwork (many), fashion items (Tudor Tailor), accessories (Lyria), and floral arrangements (Departamentul de Dichis). The evening ends with a wine-tasting, good music and stories of how much we love what we do.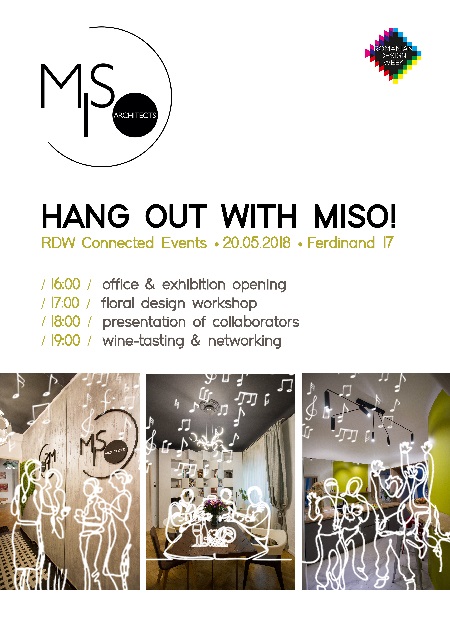 SAVE THE DATE!
• 20 May 
4 PM // office & exhibition opening
5 PM // floral design workshop (with
Departamentul de Dichis
)
6 PM // presentation of collaborators
7 PM - 11 PM // wine-tasting & networking
• 17 Ferdinand Boulevard
Miso Architects
was born out of passion for design and of desire to create spaces that are not only meant to host its users, but also to enhance their lives, encouraging to creativity and exploration of the surrounding environment. The activity of Miso is oriented towards the design of spaces and objects where they seek balance between functionality, durability, cost-effectiveness and beauty.
Facebook
Instagram