1/5
Through Fusion Arts,
Noblesse Palace
becomes a hot spot for arts and creative industries!
Proposes a heterogeneous cultural mix, by gathering works pertaining to the fields of architecture, sculpture, painting, fashion design, hand-made accessories, interior and product design, along with live concerts, short movie projections, video mapping, stand-up comedy shows or theatrical improvs.
Fusion Arts offers for artists an unconventional space to display their work and encompasses at the same time a series of events especially designed to ensure their visibility: between 18th and 25th of May Noblesse Palace hosts Fusion Arts Open Expo, gathering works from various artistic fields in order to promote Romanian art and design. Highlighted events: "Arts after work"- 24th of May and "Urban Garden Party"- 25th of May.
Fusion Arts is a project developed and supported by Noblesse Cultural Association. It promotes urban culture, bringing closer to the public artists from various fields.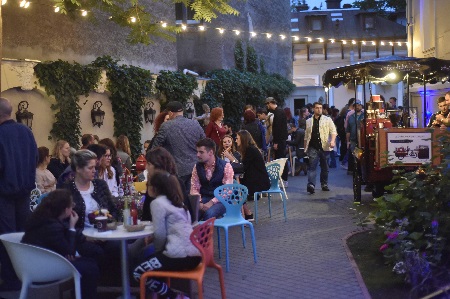 SAVE THE DATE!
• 19 - 25 May // Open Expo Fusion Arts (9 AM - 6 PM)
24 May // Arts after Work- Noaptea albă Studio Insign (7 PM- 12 PM)
25 May // Urban Garden Party (7 PM- 12 PM)
• Sfinților, nr. 7, sector 2
Noblesse Palace
– exclusive arts and events center, unique in South-Eastern Europe. Located in a historical building in the center of Bucharest, exquisitely combines elements of history and contemporaneity.
Its spacious chambers, with decorated marble floors, mouldings blown in gold and its tall, beautifully painted ceilings, create a multi-sensorial experience for its guests and are ideal for hosting public and private events, including cultural events.
facebook.com