1/5
Fratellini Bistro is part of Romanian Design Week 2016.


Fratellini Bistro is the uptown friendly classic bistro, newly launched in 2015. The bistro is a nat-urally chic choice for day socializing, serving breakfast or lunch, five o'clock tea, business meet-ings, weekend brunch or afterwork drinks, spending quality time with family and friends.
The concept blends details from natural abundant light, classic line with modern minimalist de-sign elements, authentic French and Italian bistros feeling, into a unique atmosphere, relaxing and indulging senses.
The location has a unique Fratellini Coffee brand, that guests may serve indoor, to go or on the spacious sunny terrace of the Bistro, also heated during chilli days.
Fratellini is open daily, 09:00-22:00 and welcomes guests with an extended menu, including a wide selection of fresh sandwiches, Chef's speacialties, seafood, burgers, salads, soups and des-serts. The drinks menu matches perfectly all food proposals, from freshly squized natural juice to wine or cokctails.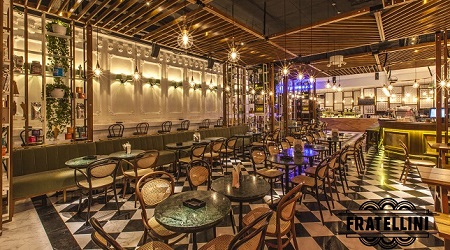 Calea Floreasca, no. 240
Open: 9:00 am – 22:00 pm