1/3
Frudisiac is part of Romanian Design Week 2016.
Frudisiac is a specialty café, a healthy eatery, a juice bar, a media shop and a place to meet with like-minded people who share the same interests: healthy lifestyle, exceptional coffee and love for design.
The architectural project was made by an acclaimed studio based in London (Not A Number Architects) and includes obvious references to Scandinavian design: dark metal cladding façade, plywood walls and a minimalist, monochrome interior with clean lines and a few color accents which add a striking photography effect.
The joint work of the architects and a group of local craftsmen resulted in the most authentic Scandinavian setting to be found in Bucharest.
The carefully selected light fixtures, the custom-made art installation created by the Danish artist Kasper Kjeldgaard, the coffee which comes from a roastery in Stockholm and the menu which includes traditional dishes like the Smørrebrød, all of these offer a feeling of authenticity and underlines the Nordic concept even further.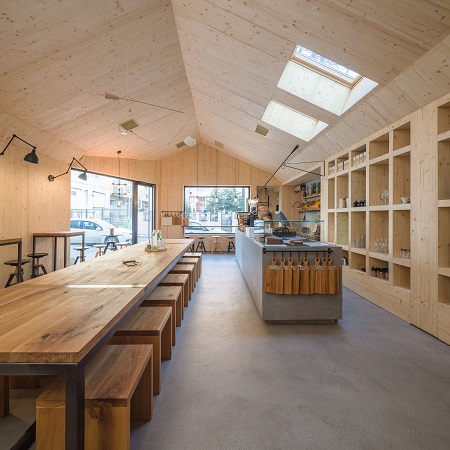 Bitolia street, nr. 4
Open: Mo – Sun: 8 am – 8 pm