1/2
If used correctly coffee or concept drinks are powerful tools a designer can wield. They can instantly set a mood, convey an emotion, inspire people. So, all men and women in love with design shall search for the special potion, crafted at Origo to inspire.
Origo will create a special coffee blend for the Romanian Design Week, with its own label by Loot.
Also, they will organize a Cupping Session. Coffee cupping, or coffee tasting, is the practice of observing the profile of a specific coffee. A coffee cupping procedure involves deeply sniffing the coffee, then loudly slurping the coffee so it spreads to the back of the tongue. The coffee taster attempts to measure aspects of the coffee's taste, acidity, flavour and aftertaste.
Moreover, there will be special cocktails in Origo's menu for the Romanian Design Week. The concept and recipes of the cocktails will be integrated with cool ceramic accessories made with Cristina Ciobanu: design pottery for concept cocktails.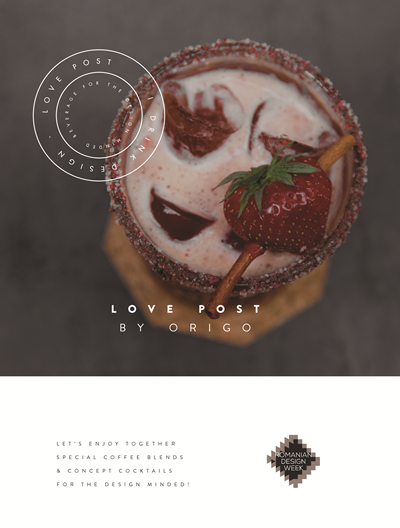 Lipscani Street, no.9
16 - 24th of May
Coffee: 9am - 7pm / Cocktails: 8pm - 12am  
Cupping: 19th of May, from 3pm to 5pm
Origo is the first coffee shop with its own roster in Bucharest, the place where coffee lovers find their energy and inspiration in a cup. Clients can experience a selection of origin coffee, freshly roasted at Origo, innovative brewing methods, teas and infusions carefully selected and 100% natural and a special menu of concept and classic drinks that can be consumed in the evening, when the coffee cups transform in cocktail glasses.
Origo aims to convey to its clients, not only the experience of taste, but also the passion and knowledge of coffee. With enthusiasm, professional baristas provide detailed information to each client, for them to understand better the process of coffee making, from the quantity used, to the optimal time of extraction. Every coffee shop visit will be a rich experience, generated by passion for coffee and all that the process of its making and serving involves.
The smell of freshly roasted coffee makes a perfect match with the surprising tea flavors and infusions carefully chosen, which are 100% natural: classic teas (green, oolong, black), spirulina tea, lemongrass, wild berries and herbal infusions.
Moreover, the experience can be taken away: specialty coffee and teas, tools and equipment for applying the most known brewing methods can be purchased for home use.
At night, coffee cups become cocktail glasses. Origo becomes, for a few hours, a cock-tail bar and it surprises its friends who step into the shop, with a special concept cocktail and classic drink menu.