1/3
On May 17th, we open the industrial hall's doors on Splaiul Unirii for the public release of Nod makerspace project, together with our friends on the roof - Deschis Gastrobar - and with our friends from the kids lab. The program starts at 12pm with a public presentation about Deschis project on the rooftop. At 2pm, we open the makerspace with a public presentation of our project, together with Nod members, residents and non-residents. We will have a short visit through the open space and the members studios. Thus, we will meet the designers and their latest projects. Also, we show-off practical demonstrations of material processing, such as welding or wood painting. At 16:00, we open the kids lab, where we are testing, experimenting and playing with educational materials created by a team soon to be announced.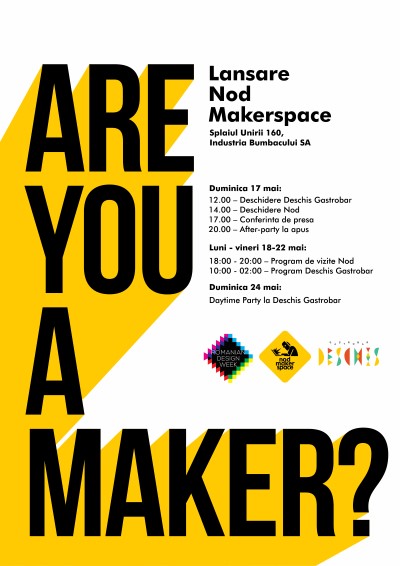 Splaiul Unirii, no. 160 (in the former Cotton Factory)
18 - 24th of May
Visiting hours: from 6pm to 8pm (NOD) // from 10am to 2am (DESCHIS)
Official opening: 17th of May – from 12pm (DESCHIS) // from 2pm (NOD) // 4pm (kids lab) 
NOD makerspace is a working and creation space, that provides acces based on membership to a wide palette of tools and equipments for digital fabrication and fast prototyping.
DESCHIS Gastrobar is the first real rooftop from Bucharest. It can accommodate up to 200 people seating and 500 standing.
These two projects enjoy the neighbourhood of Atelierul de Producție, the first cultural oriented space in the former Cotton Factory. It works since 2010 as an alternative space for events and as a unconventional art gallery.
DESCHIS Gastrobar is a seasonal project, situated on the rooftop of the cotton industrial ensemble. It' s purpose is to link in a casual environment the active-creative community and offer it's 500sm space to beautiful ideas. DESCHIS is characterized by the values it' s name holds, honest, open, expansive, friendly and responsive. DESCHIS is where you are more serene and closer to the sun. The outdoor space will host movie projections , educative workshops , creative debates and interesting projects, which we serve with cold lemonade and delicious food.