ACUARELA BISTRO & DIZAINĂR CONCEPT-STORE // BARBECUE, ART & DESIGN @ ACUARELA BISTRO
ACUARELA BISTRO & DIZAINĂR CONCEPT-STORE // BARBECUE, ART & DESIGN @ ACUARELA BISTRO
ACUARELA BISTRO & DIZAINĂR CONCEPT-STORE // BARBECUE, ART & DESIGN @ ACUARELA BISTRO
ACUARELA BISTRO & DIZAINĂR CONCEPT-STORE // BARBECUE, ART & DESIGN @ ACUARELA BISTRO
1/4
Sunday, 27th May,
Acuarela bistro
și
Dizainăr
concept-store continues Barbecue, Art & Design started for the first time last year at Romanian Design Week. The second edition of BARBECUE, ART & DESIGN takes place at GRADINACUARELA - 40 Polonă Street at 12 PM.
✔ BARBECUE: Chef REZZA prepares a twist between the traditional Romanian grill and the Persian cuisine.
✔ ART: The artist invited to the second edition, curated by Imbold Cultural Foundation, is
MĂDĂLINA ANDRONIC
, illustrator passionate in detail of the elements of Romanian folklore, strident colors and fairy tales.
Madi
will bring to GrădinAcuarela a selection of illustrations (prints and originals), published books and some of the Tricourile într-o inimă, t-shirts with messages created by Raisa Beicu and illustrations signed by
Madi
.
✔ DESIGN: this component is in the care of the
DIZAINĂR
team, currently courting the products of over 100 Romanian designers.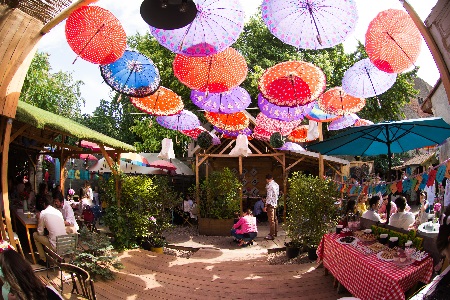 SAVE THE DATE!
• Sunday, 27th May - 12 PM - 6 PM
• 40 Polona Street, Sector 1, Bucharest
Acuarela Bistro
appeared on the background of the Imbold Cultural Association, initially as a small cultural hub for the community of artists exhibiting in the space of Imbold Art Gallery and their audience. Acuarela is known for its unique design, summer garden covered with umbrellas, cultural events and ample branding kit that includes retro cars, radios and volumetric vintage letters.
Dizainăr
is the Romanian designers shop founded in 2012 that aims to build a vibrant local product and concept market, able to compete with international standards. Dizainăr offers a wide range of design products and services, becoming a hub, a platform that connects the creator, manufacturer, and end user. In the
Dizainăr
shop and on
Dizainar.ro
you will find a selection of over 400 small series products of Romanian designers, some of them internationally awarded.