1/5
Conversation starter about interacting with the city - Meeting points.
We are initiating a dialogue about our relationship with the urban environment, and how friendly or rather hostile it is. We're pointing out a few issues by personifying the city and creating installations that illustrate ideal solutions, encouraging the visitors to participate and continue the dialogue by realizing their own relationship to the city. Many of the annswers qualifie as urban utopias. Our ideal city has a sum of potential activities, meets nature and even invites it indoor, stimulates the growth of communities, mixes the senses and integrates all its participants by solving through design urban issues and contributing to the growth of the quality of life in it.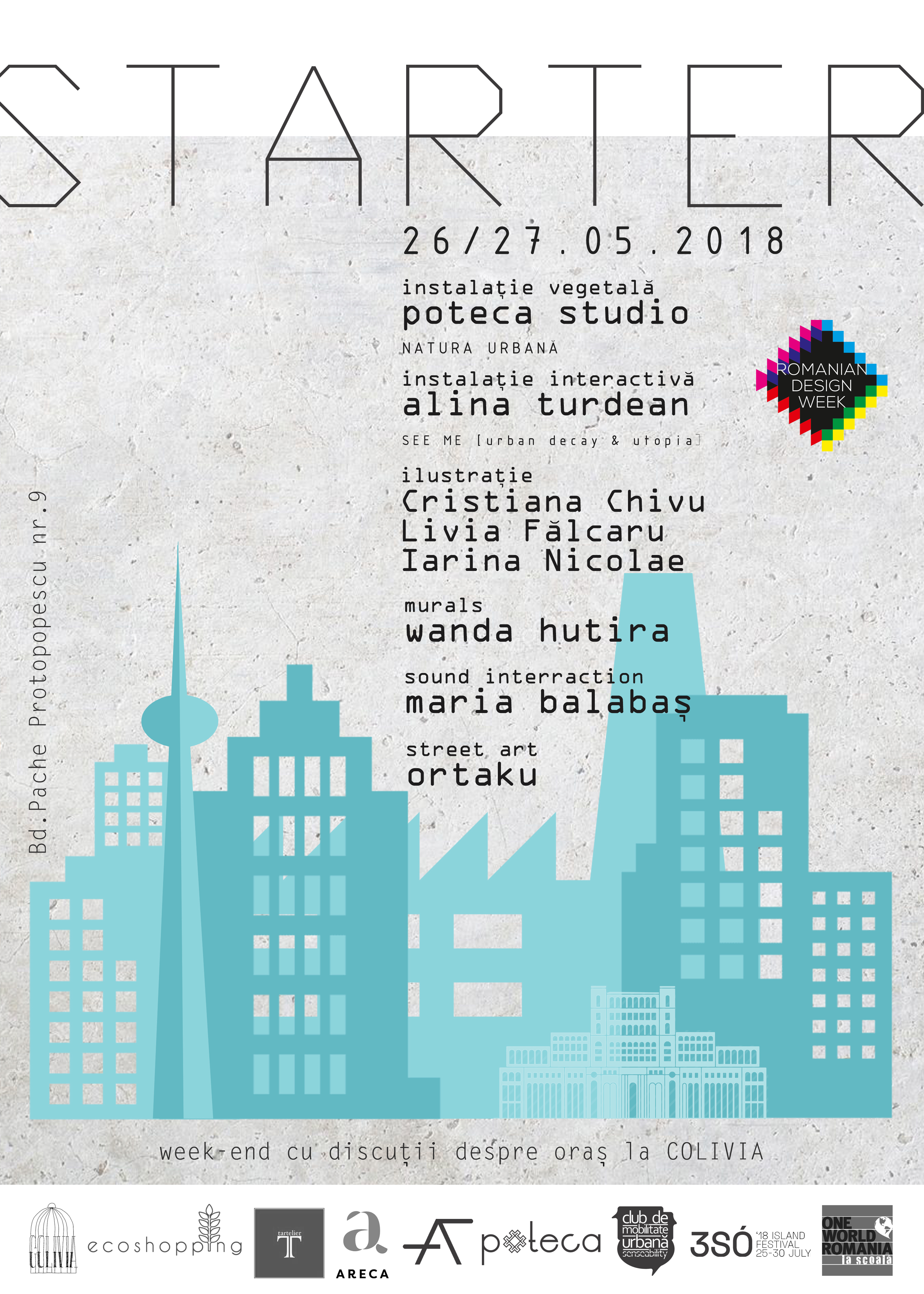 SAVE THE DATE!
• 26th of May
4 PM Community dining
8 PM  Sound interraction_with Maria Balabaș
9 PM Soft party
3SOF
(3 Smoked Olivesc Island Festival)
• 27th of May
4 PM Fill_in_the_blanks with
Club de Mobilitate Urbana Senseability
8 PM
One World la Şcoală
projection & discussion about possible urban utopia
• 9 Colivia I bd.Pache Protopopescu, Bucharest 030167
ALINA TURDEAN
is an interior architect and product designer with 10 years of experience in interior design. Graduated from Ion Mincu Institute of Architecture in Bucharest, Romania, Major in Interior Architecture and La Sapienza University, Faculty of Arhitecture Valle Giulia, Rome, Italy. The main source of inspiration for her design projects is relevant human inteaction, sustenability in the production process and a positive mark on the environment.
behance.net/AlinaTurdean
POTECA STUDIO
is a multidisciplinary creative group consisting of architects and designers decided to approach fresh concepts in contemporary architecture and design, using unconventional materials often combined with plants.
Poteca Studio
means:
Alexandru Gheorghe // landscape architect
Valentina Puzdercă // interior designer
Mihai Puzdercă // arhitect
facebook.com/PotecaStudio