1/5
On Saturday, the 26th of May at 14:00,
Imbold
Pop up Gallery recreates a workshop space for artists at Acuarela. The event is part of the Romanian Design Week happenings
Sculpture // The performance of Misha Diaconu and Marian Mardare is focused on their metal artistic installation entitled "The Romanian Apple", artwork that is a part of a series of commissioned works by
Imbold
and Acuarela with the support of "Cidru Mândru".
Illustration // After he had drawn Muralium live project last year at Romanian Design Week, the illustrator Andrei Argaetic prepares another live drawing this year at Volkswagen T2 Busbar from GrădinAcuarela.
The Future Museum of Nature
.
Painting //
Victor Fota
; after his first personal exhibition at
Imbold
, Gallery, returns to us with the new works in the series "Human extension", but also with photos work in progress to show us the creation process.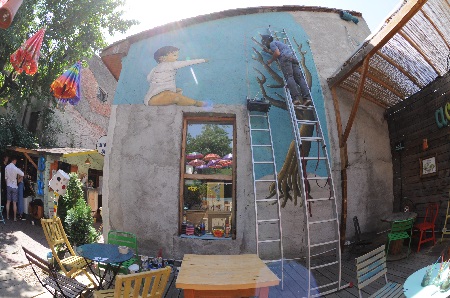 SAVE THE DATE!
• Saturday, 26th of May, 2 PM
• 40 Polona Street Sector 1 Bucharest
Imbold
is an NGO that aims to promote the creative industries and in particular the visual arts in Romania. Art generator and catalyst, Imbold aims to generate buzz and motivate young contemporary Romanian artists.
Among the projects developed / co-organized by Imbold there are festivals such as Grădinesco, Imbold Nativ, București Optimixed și platforma Antrenart.
Among the artists involved in Imbold projects in the 4 years there are: Misha Diaconu, Victor Fota, Andrei Argaetic, Pisica Pătrată, George Roșu, Ioana Șopov, Paula Rusu, the responsible design project "Tubatect" and 70 other artists from Romania.
Imbold
developes cultural events in unconventional spaces: summer gardens, parks, historic palaces, theaters, village barns, in the attempt to pack art in an accessible, friendly way and to attract new audiences.