ASOCIAȚIA IMBOLD // TERRACOTTA MEDIAȘ POP-UP SHOP AT ACUARELA
ASOCIAȚIA IMBOLD // TERRACOTTA MEDIAȘ POP-UP SHOP AT ACUARELA
ASOCIAȚIA IMBOLD // TERRACOTTA MEDIAȘ POP-UP SHOP AT ACUARELA
ASOCIAȚIA IMBOLD // TERRACOTTA MEDIAȘ POP-UP SHOP AT ACUARELA
ASOCIAȚIA IMBOLD // TERRACOTTA MEDIAȘ POP-UP SHOP AT ACUARELA
1/5
Thursday, May 24, at 18:00,
Imbold Arts & Crafts
invites you to the launch of the first shop of the last factory of painted stoves in Romania.
"Terracotta Mediaș" was founded 112 years ago and is the last factory of hand-painted stoves in Romania. Since 1906, each tile has been cast, finished, glazed and painted by hand.
The Terracotta Pop-Up at Acuarela is developed for the community of designers and architects for whom the road to Mediaș may sometimes be is too long. (although the visit to the factory really worth the effort)
The shop will permanently exhibit about 80 models from the factory archives, custom-made pieces signed by the sculptor Iulia Costescu for "Viscri 32 Vis de Viscri" and "Radio Guerrilla" and 2 painted stoves.
The event will also host a demonstration of tiles hand-pressing using the same 112-year old recipe of clay and a workshop of painting miniature terracotta replicas.
May 24: Terracotta pop-up at Acuarela: 40 Polona Street.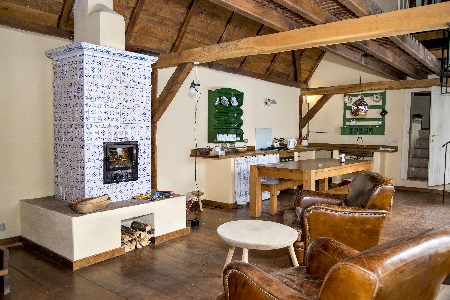 SAVE THE DATE!
• 24th of May, 6 PM – 10 PM
25th of May, 12 PM – 10 PM
26th of May, 12 PM – 10 PM
27th of May, 12 PM – 10 PM
• Acuarela Bistro: 40 Polona Street, sector 1
Imbold Arts and Crafts
is a NGO active both in the urban and rural areas, discovering artists and craftsmen and promoting visual arts and old crafts as a tool of developing national identity and preserving cultural heritage.
Imbold is using both conventional art space like galleries and museusm but also unconventional ones like cinemas, warehouses, barns, castles and towers. The purpose is broading the audiences and generating awareness for artists, craftsmen and their works.