1/5
One full day intensive workshop, at the Botanical Garden in Bucharest. The workshop is recommended to those with a minimum drawing experience, but it is suitable for all levels of experience. The guidance is individual. All materials are included.
The workshop will take place while the botanical art exhibition of
Irina Neacșu
will take place (17th of May - 10th of June).
All former students of
Atelier Irina Neacșu
will be offered a 10% discount, with more details on the discount voucher on irina@irinaneacsu.com
9.30-10.00 – access, coffee, introduction
10.00 – 12.00 – botanical drawing, studies on light and shadow and texture
12.00-13.00 – lunch break – not included in the masterclass fee
13.00-16.00 – transferring the drawing onto the final paper, watercolor
Subscriptions on
inworkshops.com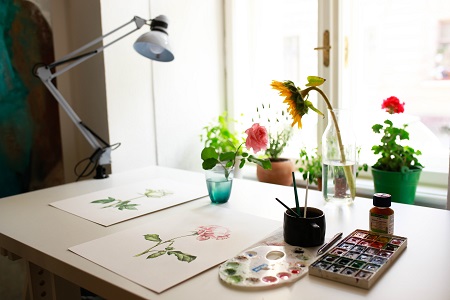 SAVE THE DATE!
• 1st group: 19th of May, between 10 AM - 4 PM
2nd group: 20th of May, between 10 AM - 4 PM
• Botanical Garden D. Brândză - Sos. Cotroceni nr. 32
Irina Neacșu
is a designer and botanical artist ASBA based in Brasov and Bucharest, Romania. Her work focuses on botanical subjects and varies in technique, from watercolor botanical illustration towards oil abstract painting, and from visual to decorative art. Her brand is internationally known for the bespoke upholstery and textile works, as well as for her interior design projects. In the past recent years, she moved her studio in Brasov, in order to be in contact with the Transylvanian flora and landscape and to develop high quality works related to botanical art. Her studio is known also for the art classes, and her commissioned work at the moment cover various projects in botanical illustration, books and design objects for home décor.