1/3
The event will be an information session in an interactive format. The presentations will include a brief overview of Creative Europe programme, information about European Cooperation projects and about Creative Europe Guarantee Facility (guaranteed loans) available in Romania. The information about cooperation projects will also include case studies and project examples relevant for architecture and design professionals attending the meeting. Q&As are welcomed during the presentation. In the end, the participants will be invited to assess in a discussion if they consider these funding opportunities to be accessible and useful. Private discussions for project idea development or eligibility valuation can be arranged.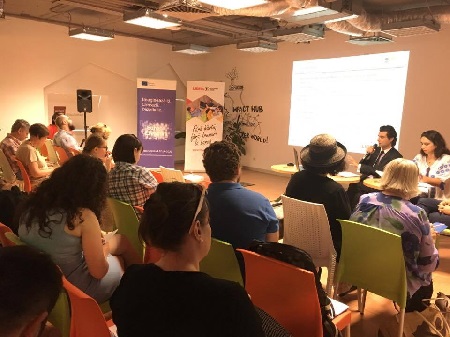 SAVE THE DATE!
22 May // 6:30 PM
46 Victoriei Avenue
Creative Europe Desk Romania
offers free advice and support to Romania-based applicants of Creative Europe and promotes this programme at national level in a variety of ways. The Desk organises, co-organises and attends over 40 events every year where it spreads the word about Creative Europe funding opportunities and helps cultural and creative professionals to develop their ideas, find partners for cooperation projects and also better inspiration in case studies or examples of funded projects. Free of charge consultancy services are also available not only during these events, but also in private appointments or via Skype meetings.

FB Page
Twitter