Photo credits: Roald Aron
Photo credits: Roald Aron
Photo credits: Roald Aron
Photo credits: Roald Aron
Photo credits: Roald Aron
Photo credits: Roald Aron
Photo credits: Roald Aron
Photo credits: Roald Aron
Photo credits: Roald Aron
Photo credits: Roald Aron
Photo credits: Roald Aron
Photo credits: Roald Aron
Photo credits: Roald Aron
Photo credits: Roald Aron
Photo credits: Roald Aron
Photo credits: Roald Aron
Photo credits: Roald Aron
Photo credits: Roald Aron
Photo credits: Roald Aron
Photo credits: Roald Aron
Photo credits: Roald Aron
Photo credits: Roald Aron
Photo credits: Roald Aron
Photo credits: Roald Aron
Photo credits: Roald Aron
Photo credits: Roald Aron
Photo credits: Roald Aron
Photo credits: Roald Aron
Photo credits: Roald Aron
Photo credits: Roald Aron
Photo credits: Roald Aron
Photo credits: Roald Aron
Photo credits: Roald Aron
1/33
"CREATIVITY LIGHTS UP YOUR SOUL" is an art project inspired and dedicated to sneakers culture. This exhibition was presented by BURN ENERGY and showcased at Romanian Design Week 2016 from 20th of May to 5th of June at Piata Amzei Venue.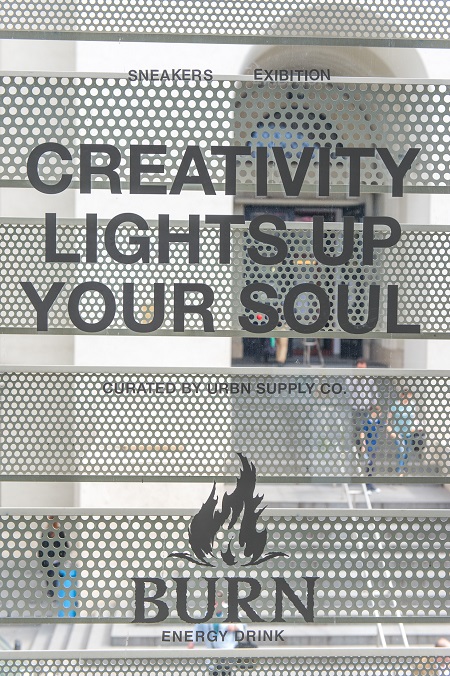 A series of artists and urban figures were provoked to give to the glorious sneakers new interpretations, shapes & reflections. What representation does a sneaker have when given the theme sound, metal, wind or glass? What appearance does it have when created by an architect, a graphic designer, a chef, a photographer, a musician, a sculptor, an inventor or a painter?
Among the artists of the exhibition you can find:
Agnes Lukacs // Bon Bijou // Julien Britnic // Andreea Macri // Vertigo Metal Design // Sweet Damage Crew // Alexandra Mateescu  // Stein Stainer // Tudor Borduz // Marius Cocu // A List Magazine // Mihai Barabancea // Filip Cocos // Ghica Popa // Ioana & Matei Branea // Machina Electrica // Paul Dersidan // Sebastian Pren // Sebi Hogea // Dragos Motica // Aerium.ro // Woodish // Dorin Stefan // Heist Industries // Andrei Mindru // Mimoco.ro // Cofetaria // Tudor Ciurescu // Stefan Tanase // Gabriel Barbu // Kadna.
 The art show is organized by URBN SUPPLY CO. store and curated by Ciprian DICU, visual artist & urban arts curator.