1/4
ADNBA and the Urban Spaces housing complex (Dogarilor 26-30), will be opened for the city and will host visitors for one day during the Romanian Design Week. The architects from ADNBA and the habitants from Dogarilor street will gladly receive their guests, sharing with them stories and ideas about the urban living in an increasingly crowded Bucharest, which seems to be wishful for a new architectural identity.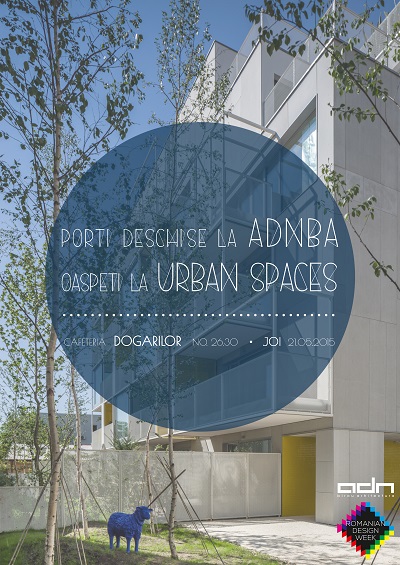 Urban Spaces Cafeteria - Dogarilor Street, no. 26-30
21st of May, from 6pm to 10pm
ADNBA was established in 2003 in Bucharest, by Andrei Șerbescu and Adrian Untaru, later joined by Bogdan Brădățeanu. The work of the office is characterised by the attempt to search for the right balance between experiment and experience in the complex and delicate landscape of contemporary life. ADNBA believes in architecture as a creative gesture, with cultural value and social responsibility, admitting the sometimes hazardous, and always subjective distinction between such attributes, in a rapidly changing environment as in Romania and the whole of Eastern Europe.
The challenges brought by the different scales, the diverse urban and cultural contexts, or the various building types realized so far, have all enriched the architects' experience and understanding of the many-sided nature of the profession. The practice of the office has achieved critical recognition for both its built projects and competitions entries, many of which have been awarded in national and international juries.