1/4
The exhibition 'Braun &Brauner – the power of the line' will juxtapose the 'as little design as possible' of the products developed by Braun during the Dieter Rams era (1955-1995), with the shamanic surrealist oeuvre of Jewish-Romanian born artist Victor Brauner.
Exactly 60 years ago, Dieter Rams was recruited to Braun as an architect and an interior designer. In addition, in 1961, he became the Chief Design Officer at Braun until 1995.
Given the fact, that in 2015 we celebrate precisely 60 years since Dieter Rams started working for Braun & also 20 years since he retired, we believe it's the right moment to look back to his lifelong creation & the entire legacy that influenced so much the 20th century design.
By staging up this exhibition, we're focusing on both, art & design and in the mean time we're exploring the power of simple lines. Lines that in art remain 2D and in industrial design become 3 dimensional products.
Although they lived and worked in completely different contexts, both, Dieter Rams and Victor Brauner had an extremely prolific and successful period in the 2 decades following WW2. It was exactly the time where both defined their very personal signature, leaving behind a highly inspiring legacy that brand-marked the 20th century art and design history.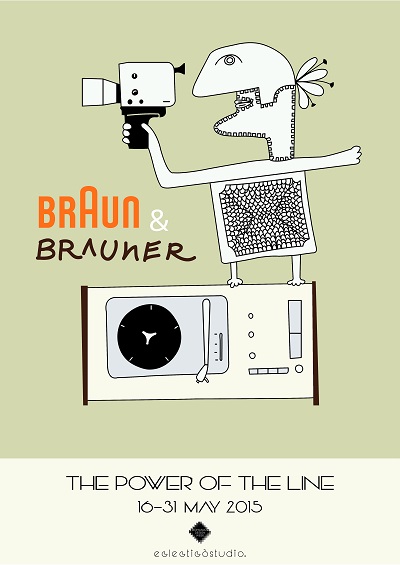 Constantin Budișteanu Street, no. 18
16 - 24th of May, from 11am to 7pm
Eclectico Studio is a 20th century design gallery, located in a marvelous Art Deco villa in the very heart of Bucharest. Local rumors and legends spread the word, that this villa was the decadent home of the favorite mistress of King Carol II during the 1930's.
We decided to take the historical extravaganza a step further and, in May 2013, we opened an eclectic ambient, where vintage iconic design pieces and contemporary art perfectly blend in with the impressive interior architecture. Though our main focus is oriented towards Scandinavian Mid Century Modern products, we collect and propose our customers a very large variety of memorabilia. All our products are carefully selected and, if necessary, reconditioned, so that they reach our client in best vintage condition and with precise historical information. Besides the interest in Mid Century Modern furniture, at Eclectico Studio, we have a real passion for ceramics and art, so be sure that, we will always greet you with a handpicked and constantly growing selection of modernist and contemporary iconic design gems.
Our aim is to constantly raise the level of our selection, so if you're in love with quality design from the past decades, you will for sure be enchanted by our tactile poetry collection dedicated to sophisticated habitats.