1/2
FLORAL ARCHITECTURES. When product design meets floral design
Recently, the international design scene has reconnected with the floral art through exhibitions and demonstrations held during major design events. The event aims to integrate the ephemeral exuberance of flowers in contemporary design and architecture through a compelling happening, all immersed in the plants glow and perfume.
Forêt Étrange by Kaptura de Aer will be the support for the floral arrangements. Kaptura de Aer invites floral designer Nicu Bocancea to present a design-led tailored demonstration with architectural flowers, having the product Forêt Étrange as starting point. The creations subsequently become part of the exhibition until the ephemeral art consumes itself.
Nicu Bocancea is a prolific floral designer whose pieces are literally flower installations that combine plants and industrial materials. His works appeared twice in International Floral Art, a prestigious biennial book series compiling the best contemporary floral design.
Sponsored by PopUpStreet.ro and ThePlot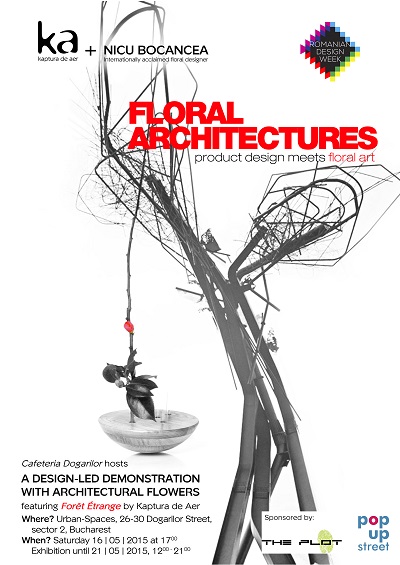 Dogarilor Cafeteria - Dogarilor Street, no. 26-30
Happening: 16th of May – 5pm
Exhibition: 16 - 21st of May, from 12pm to 9pm
Kaptura de aer is the team formed in 2013 by Cristina Enuță and Veronica Olariu, but it is also the concept that emerged from this encounter. The objects we design aim to encompass the naivety and enthusiasm of the child trying to catch the air in his hands, but also the sensitivity of that who can foresee in the warmth, the movement, the vibrations and perfumes of the air the signs of another presence.
Having a background in architecture makes us appreciate more the freedom object design offers in bringing a more ludic approach, a personal interpretation, a narrative, but also the possibility of a more intimate interaction with the object. On the other side, our experience with architectural space might give us a fresh understanding over small scale objects.