1/2
This event wants to show that the traditional Roma crafts have multiple facets and the items created are capable to bring balance between the old and the new.
Glimpt studio designed a series of original Home Deco products, brought to life by Roma craftsmen and through which they can take into the future their traditions and their cultural traits.
The wicker weaving craft is one example. These simple objects were transformed in modern items by giving them a new use and a novel look.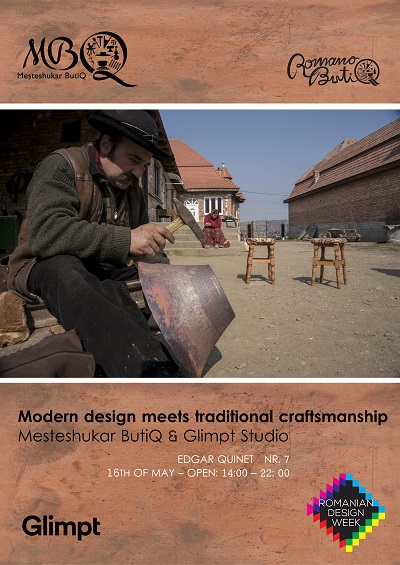 MBQ Store – Edgar Quinet Street, no. 7
Official oppening: 18th of May, from 6:00pm 
Visiting hours: 18 - 24th of May, from 10am to 8pm
Mesteshukar ButiQ – MBQ is a network of social economy enterprises aiming to revalue traditional Roma craftsmanship.
Intended to meet contemporary needs of reconnecting to the natural life and protecting the environment, the products offered by Mesteshukar ButiQ involve clean raw materials,craftsmanship passed from generation to generation, skillful hands and an immediate major utility.
Together with collaborations with outside partners MBQ has managed to give a new pulse to the traditional Roma craft and to reinvent it through the creation of unique objects, made with traditional techniques and characterized through modern concepts.
The Swedish designers from Glimpt visited the Mesteshukar ButiQ network of artisanal cooperatives and developed new items together with the Roma craftsmen. Their goal is to present the world forgotten crafts and to bring forward the people and the stories behind them.