1/4
Wendy Williams, a punk rock heavy metal cool porn chick that impressed Oana Maria and Cristiana Cott Negoescu into doing a stage scene remake way to the future. Rebellion and brightness brought together. Simina Oprescu&Dragoş Gavrilă felt nostalgic about times depicted in the Prohibition inspired movies and sat Florin Piersic Jr. himself at a table of booze and entaglement embrace. Then came the Russian 1900 painters who sat by the shoulder of Alexandrina Hristov and Ioana Cristina Casapu with their oily brushes. Now, let's go back a bit with Andreea Retinschi and Lucia's decadent scenery, a full frame saturated pastels décor depicted with an uncertain innocence encouraged by unicorns and dreams of a fairytale. It's not easy being a high society blonde lady with a handful of traumas and delikatessen, and here we have Simona Cuciurianu, the actress flashed by Alexandru Dan in her 1960s Good Wife turned Gone Girl posh kitchen. Romanticism is yet to be appreciated, hereby with Dragoș Mălăescu.The real man will not feel opressed by smooth air and fine flowers covering his chest. He will be a man wearing soft over hard, trough the lens of Dragoş Mălăescu. Feeling exhaustion is underrated. Nicoleta Lefter looks like she danced her way into this frame making Adi Bulboacă notice the erotic potential of her emotion in movement.
#recycletime is a staged photography project carried out by Retro Future team & contributors. It consists in the production and display of seven printed photographic works that depict 7 key people in arts/culture/fashion transported by Retro Future into specific periods in time that they select. Oana Maria, Florin Piersic Jr., Alexandrina Hristov, Lucia, Simona Cuciurianu, Mihai Smarandanche and Nicoleta Lefter chose to travel into their favorite moments in time, recreated by Retro Future with conceptual elements. The reinterpretation of various decades is made in the rhealm of recycling and revaluating the past with futuristic elements. The project includes creative direction, set and costume design, make-up, hair, styling and photography from seven distinct teams of artists united under the Retro Future umbrella.
Creative team: Anca Miron, Ioana Cristina Casapu, Andreea Retinschi, Dan Alexandru, Dragoş Gavrilă, Cristiana Negoescu, Dragoş Mălăescu, Sonia Constantinescu, Adi Bulboacă, Simina Oprescu, Iulia Goicea, Silviu Iuga, Mara Rădulescu, Mihaela Vasiloi and Mirela Degeratu.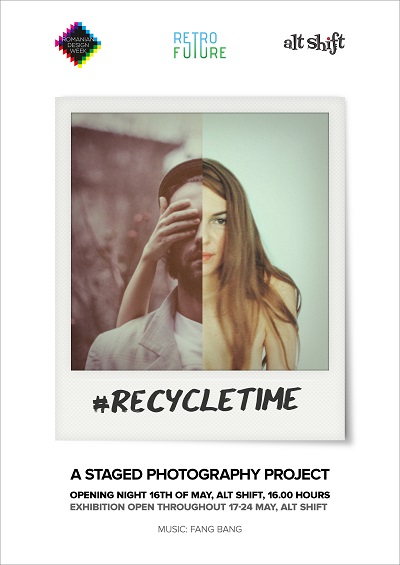 Alt Shift - Constantin Mille Street, no. 4
Exhibition: 17-24th of May (Alt Shift's regular opening hours)
Opening night: 16th of May, from 4pm 
Retro Future is a Bucharest bureau specialized in complete services for fashion and interior design, photography and image consultancy. Founded by partners Anca Miron and Ioana Cristina Casapu, it encompasses the visual and digital experience of two minds and a vivid team of creatives sharing a complex vision on lifestyle and offers cutting edge solutions for brands, companies and individuals within the realm of both art and commerce.