1/1
Launching event for a new series of objects made my Kolektivul TotNoi, a playful approach on the communist imaginary theme. The concept behind the Kolektivul Tot Noi objects is called The Dictators, exploring the contradictory socialism current by taking former cult objects (small sculptures of the Ceaușescus heads) and reinterpreting them into a new functional design, with various meanings and stories.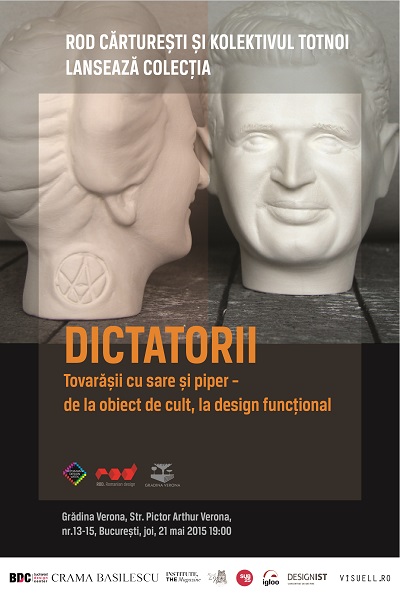 Verona Garden - Pictor Arthur Verona Street, no.13-15 
21nd of May, from 7pm to 10pm
Rod is the Cărturești project with a mission to promote, exhibit and sell Romanian design, bringing local creators closer to an ever emergent public. Ranging from jewelry to clothing, furniture, toys, stationery, ceramics or decorative objects, ROD brings a much needed alternative to a mass produced scene. ROD Cărturești takes pride in various in-house artistic collaborations, producing sustainable product lines with the creative input brought by emerging artists. At ROD you will find fresh ideas, functional designs and unique stories.