1/2
This project aims to introduce a new creational system, based on trained and educated creativity, collaborative creation, the mentality of sharing and applied complexity. Based on trends information and research, on the foresight of SS 2015, on collaborative creation, the project's purpose a fresh perspective towards a new generation of textiles, able to generate a new lifestyle model.
The creative steps are the same for every project of the program: "EMPRINT CONCEPT" (conceptual view), "EMPRINT 2.0" (commercial development) and "EMPRINT 3.0" (feed-back and fashion analyze).  
The fashion concept supporting this brand is a collaborative creation (students of the 3rd year, Fashion Department, National University of Arts, Bucharest, coordinated by dr Ioana Sanda Avram), inspired by Sense of place, a megatrend from WGSN, for Spring Summer 2015.  
Creative concept: the new cultural approach focalizes on the reality, expressed in the material world's details, as a reaction toward virtuality, becoming more and more overwhelming and dangerous.
The new technologies super-high-definition could help us to attempt an emotional intensity more extended and complex than anything else before, living the present and the environmental space much more consciously and acute. We need quiet, space for breathing and intimacy with our place.
There is a sense of place and context, in this reality friendly, not hostile wherewith artists and designers work together. A "space" of material reality and living environment, from where we picks up sounds, tastes, textures and emotions to describe the place we are calling "home".
The first conceptual step "EMPRINT CONCEPT" is continued with the commercial response by another collaborative project: "EMPRINT 2.0". This project will be a design project for a series of fashion commercial prototypes, inspired by the first initial concept. This new declination of the project is open to students who find valuable and inspirational the lifestyle model shared by "EMPRINT CONCEPT" (event and social media).
Even though "EMPRINT 2.0" presented within the Romanian Design Week is the name of a fashion collection, it extends to the level of event and doesn't stop at clothing, actually describing a whole cultural area, through tools that are related to lifestyle and the symbiosis between young creative people and the world they live in.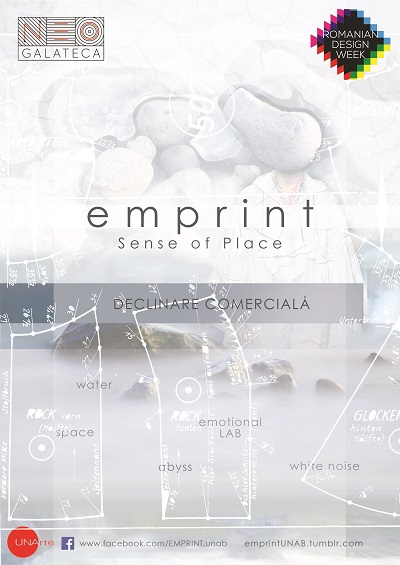 GALATECA Gallery, C.A. Rosetti street, no. 2-4
16 - 24th of May
Visiting hours: Weekdays 12pm to 8pm / Saturday 11am to 7pm (Sunday, Monday closed)
With "EMPRINT 2.0" we intent to reiterate the wonderful collaboration with GALATECA Gallery, started in 2014 and developed during RDW the same year.
"EMPRINT" Project is the 2nd public project being part of the COLLABORATIVE CREATION PROGRAM initiaded by Fashion Department of the National University of Art Bucharest, coordinated by Dr. Ioana Sanda Avram and conducted in student classes (since 2009). This 2nd project is based on the experience and analyzed results of "SELENIT", the first one.