1/3
Launching the competition of graphic design. The new visual identity of the publications of the Architects' Union of Romania
UAR and "Arhitectura" magazine
The call comprises: the Logo of "Arhitectura" magazine, the anniversary Logo 110 years of "Arhitectura" posted on the publication the whole year 2016, Templates for the publications "Observatorul Urban" and BIUAR and other items of vizual identity that will be passed on to all UAR' publications.
The contest is open and widely addressed to architects, designers, graphic artists, professionals or students, competing for prizes. The best project will be selected by a reputed jury.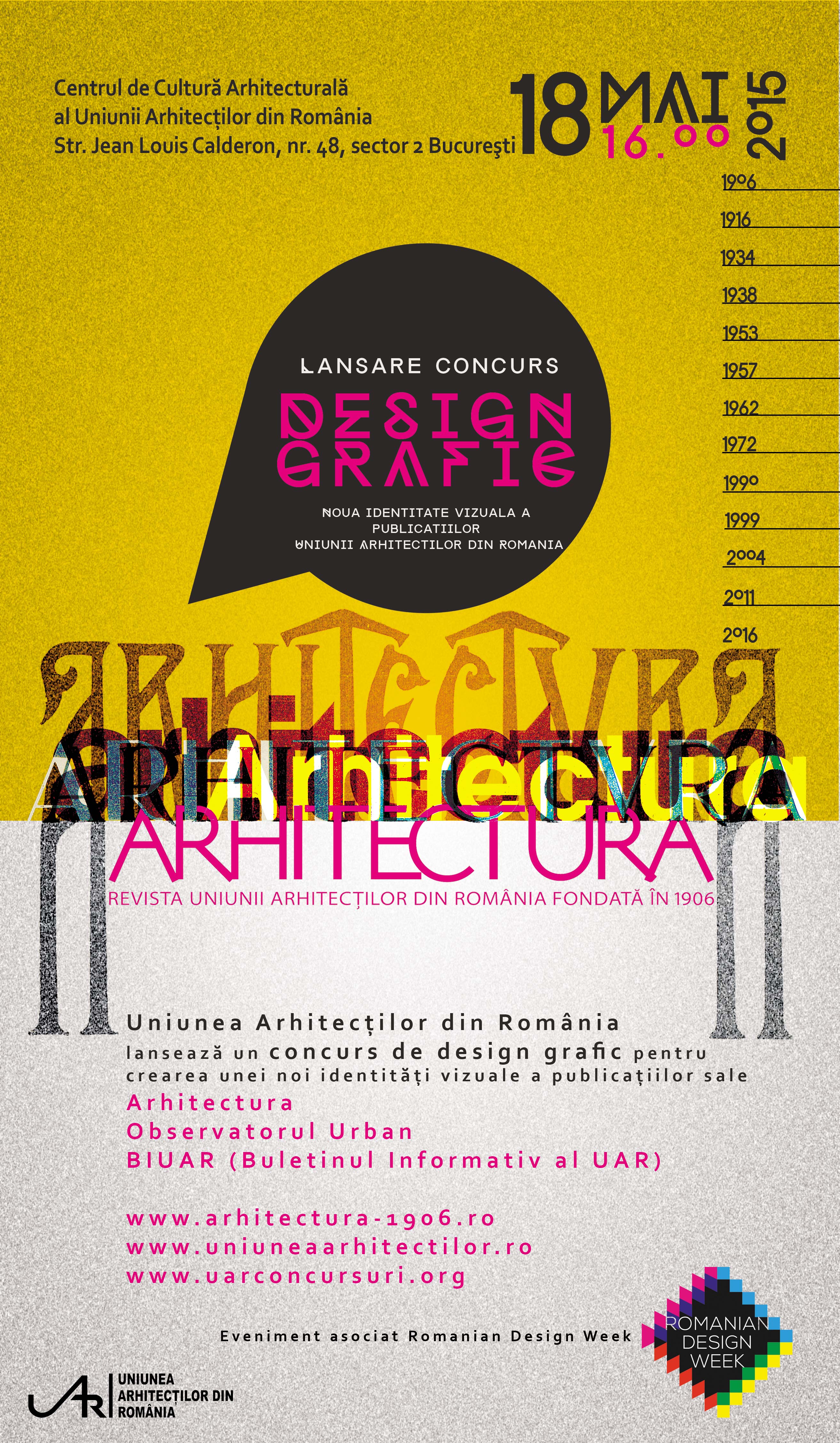 The Centre for Architectural Culture of the Architects' Union of Romania (UAR) 
Jean Louis Calderon Street, no. 48
May 18, from 4pm
The Centre for Architectural Culture of the Architects' Union of Romania (UAR) was inaugurated in 2012 in a building listed as historic monument situated in a traditional and picturesque residential area form the end of 19th and first half of the 20th Century Bucharest. The "Calderon" Centre organizes exhibitions of architecture, restoration, urban planning, painting, graphic arts, applied arts and photography. It is also an emerging location for architects' meetings, launching of books and publications, opening of UAR events, communication and debates on architecture, built heritage and urban planning.
The "Arhitectura" magazine was founded in 1906 by the Society of the Romanian Architects and it is now one of the oldest architecture publications with continuous issues in Europe. Nowadays "Arhitectura" entails different means of digital communication besides the bimestrial printed magazine, with 144 full-color pages: the web edition and a digital version on iPad. The magazine is composed by a thematic dossier, presentation of relevant projects of architecture, restoration and urban planning, young architectural offices, student diplomas, essays, interviews, interior and object design, profiles of important architects who made history of architecture and urban planning in Romania, built heritage, books reviews, presentations of current events and projects in the country or abroad, and many other subjects that offer the audience the variety and richness of what we commonly call architecture.