1/1
Onset Marathon it's an event dedicated to young architects and architecture studios that marks the ending of Onset series – formal presentations and Reset – informal parties, that have been taking place in the past months at
Hub A
.
The experiment aims to gather emergent initiatives from the young architects in Bucharest, to invite them to talk openly about their activities, clients, projects and aspirations. The main purpose is to create a perspective regarding the young generation of architects, oriented to increasing the quality in the object of architecture, quality in the built environment and urban life in general.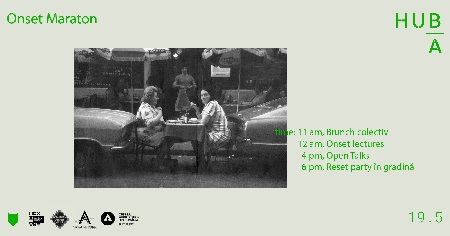 SAVE THE DATE!
• 19 May
11 AM: Brunch colectiv
12 PM: Onset Lectures
4 PM: Open Talk
6 PM: Reset party
• Hub A (32 Sfântul Constantin Street)
Hub A
is a concept created by Calup in the basement of The Architecture House, the new base of Order of The Architects in Bucharest, on 32 Sfantul Constantin Street. For the spring season 2018, they have arranged a programme dedicated to promoting the young architects and start-ups from the architecture and creative industries domain. From April to July, the space is open to coworking, but at the same time, hosts private events.
The event is part of Weekend in the Creative Quarter.