1/3
The event brings forth the winner of the Cititor, Voyeur contest – the Romanian design call for proposals organised by ROD Cărturești this fall. Book Stork Lamp is a special lamp for readers, designed by Cristina Bulat and produced by ROD Cărturești. The event marks the official launching of the exclusive product chosen by a jury consisting of the ROD team, Designist, Visuell and Bookaholic. The lamp and its story will be revealed to the public, as it will mark the beginning of an exclusive collaboration.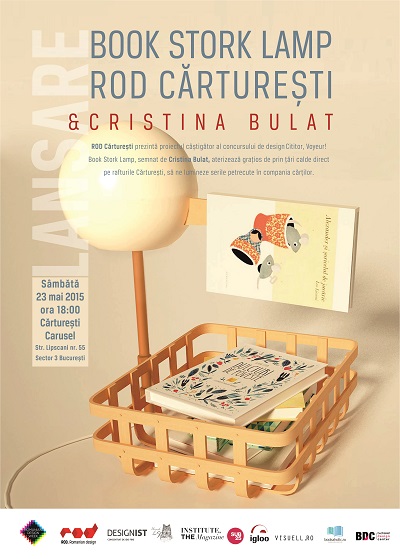 Cărturești Carusel - Lipscani Street, no. 55 
23rd of May, from 6 pm
Rod is the Cărturești project with a mission to promote, exhibit and sell Romanian design, bringing local creators closer to an ever emergent public. Ranging from jewelry to clothing, furniture, toys, stationery, ceramics or decorative objects, ROD brings a much needed alternative to a mass produced scene. ROD Cărturești takes pride in various in-house artistic collaborations, producing sustainable product lines with the creative input brought by emerging artists. At ROD you will find fresh ideas, functional designs and unique stories.