1/4
Poteca Studio & Alina Turdean see design as the main means of expression in order to solve daily needs, thus it creates the main liaison that make life more beautiful and practical.
Combining the 5 senses, RE-integrate is a sensorial exposition that unites a sum of different disciplines that usually fulfil our daily needs. From wardrobe to furniture, sound or taste, the primal resources extracted from nature will be taken into account, offering an organic setting for day to day products.
For this design mix, the matter /material is the main generator element. Applying such principles based on the recovery within reintegration of the materials reuse and upcycling, RE-integrate aims to achieve a balance between design as a forma of artistic expression and awareness of our actions on the environment.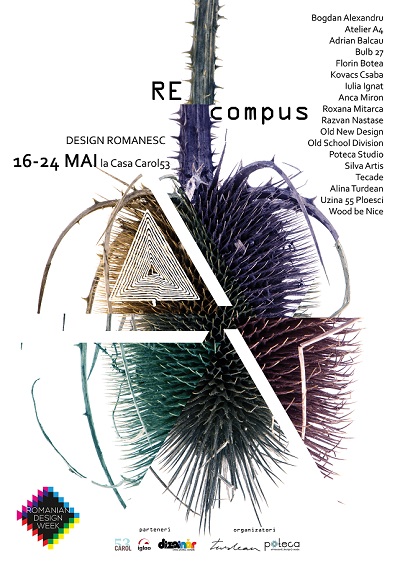 Carol I Street, no. 53
Exhibition: 16th - 23rd Of May, from 2pm to 6pm
Official opening: 16th of May – 8pm
Performance: 21st of May – 7pm
Poteca is a multidisciplinary creative group consisting of architects and designers decided to approach fresh concepts in contemporary architecture and design, using unconventional materials often combined with plants.
Poteca Studio means: Alexandru Gheorghe – landscape architect // Valentina Puzdercă – interior designer // Moumene Sofian – designer and CG artist // Mihai Puzdercă – architect.
Alina Turdean is an interior architect and product designer. Born 984 in Deva, Hunedoara county. Graduated from Ion Mincu Institute of Architecture in Bucharest, Romania, Major in Interior Architecture and La Sapienza University, Faculty of Arhitecture Valle Giulia. Competitions. APMR Competition - Furniture Design 2012– 1st place for concept, 1st place for prototype Leaf coffee table, collaboration with arh.Anca Trestian, Inspired Competition 2009 Interior Design – 2nd place temporary lodging Modul PAL.